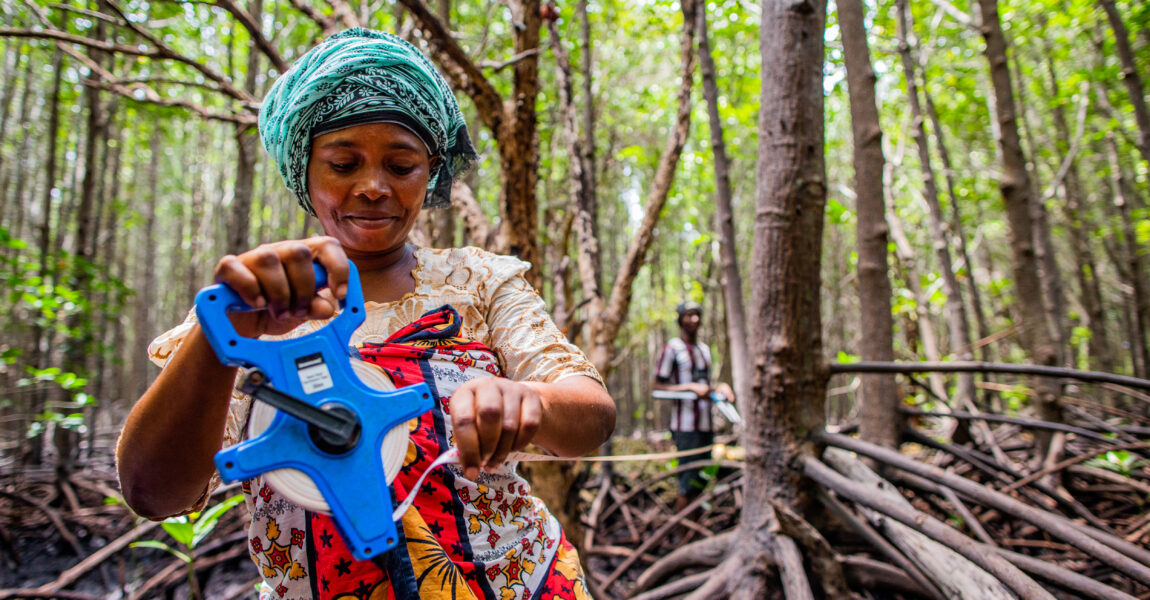 Financing Blue Carbon Ethically, Responsibly, and Effectively:
ACES Blog Series
In the last 10 years or so, mangrove forests have undergone a reputational shift that any PR agency would be proud of. Once dismissed as malaria-ridden swamps, mangroves are now recognised as the coastal superheroes that they really are. Seagrass meadows are also increasingly recognised for their environmental importance, and even saltmarshes – perhaps, unfortunately, less charismatic than their coastal cousins – are receiving attention for their carbon storage abilities. These three ecosystems together are the three main 'blue carbon' ecosystems[1], and their collective ability to contribute to the mitigation of and adaptation to climate change is huge in relation to their area.
This newfound fame is cause for celebration – we protect what we love, and blue carbon ecosystems deserve all of the love they can get. Mangrove, seagrass and saltmarsh scientists and conservationists who have been singing their praises for decades are now joined by a tidal wave of interest from people wanting to contribute to their protection and restoration. On the face of it, this is good news for blue carbon conservation, yet this excitement brings a risk that the quantity of support may come at the expense of quality of work that it funds.
Take, for example, planting mangrove trees. People love to see mangrove saplings being stuck in the ground, muddy hands and feet working hard to plant seedling after seedling, filling bare gaps along the coast with a future forest. Yet mangrove planting is notoriously fickle – one 2015 study suggests that only around 50% of mangrove planting efforts succeed to become established forests. Wave erosion, suffocation by sediment and grazing by goats are among the biggest threat to these newly planted trees, which often lack the protection of a surrounding forest which new seedings need to thrive. This challenge is not well-known outside of conservation and science, however, and funders keen to finance the planting of mangroves may end up throwing their money at efforts that may well fail.
Expectations of what blue carbon can deliver, in what timescale and with what budget must also be managed. Projects that are certified to sell carbon credits generated from mangrove planting and protection take time, energy, patience and resources to develop. For this reason, they are few and far between – fewer than 10 projects worldwide at the end of 2022 – creating a huge mismatch between supply and demand for 'blue carbon credits'. Funders must recognise the need for upfront financing to get these projects off the ground, and allow for flexible, iterative approaches to project development that mean that the communities involved can be meaningfully consulted and involved, which may ultimately mean a deviation from the original proposal to the funders. This community engagement and involvement is crucial, however, both in the project development phase and throughout the lifespan of the work. Project developments must meaningfully engage with community aspirations, needs and perspectives to ensure social justice in the project interventions and benefits. Our first blog will present findings from research into perspectives of justice among the community of Vanga, home to our Vanga Blue Forest project. Through quotes from research participants, we will present the findings through the eyes of the community, highlighting the nuances of what social justice means to those most impacted by the projects.
Carbon credits may be a solution for some communities wanting to protect and restore mangrove forests, but it is not a solution that is suitable for all. The resources, skills and equipment needed to develop these projects is beyond the capacity of an average community group, meaning that there is almost certainly going to be a reliance on scientific and technical partners, which may well come at a cost. Nearby scientific facilities may ne needed for processing of samples and for scientific and technical support for project staff – something that is not always available in remote areas. For these and other reasons, significant stumbling blocks can lie between community groups and carbon certification. This challenge should be recognised and funders should consider the possibility of grant funding to unaccredited projects, rather than or in addition to buying carbon credits. This approach has been taken by Ocean Bottle, who have diverged from offsetting their carbon footprint to funding high-quality projects that fund the conservation and restoration of carbon sinks, including blue carbon ecosystems. Later in the year, Ocean Bottle's blog will expand on their approach to financing blue carbon as part of their environmental and social responsibility as a marine-focused business.
Whether funding comes from carbon credits, grant funding, philanthropy or other sources, the ethics of where the money comes from and what role it plays in the funder/buyer's carbon reduction, CSR or philanthropic strategy is important. Funding blue carbon conservation shouldn't be a distraction from taking steps to make systemic change or reducing carbon emissions or to cover up harmful or unethical practices elsewhere. It should be well-informed and researched, although donors do not always necessarily have the time, knowledge and capacity to carry out this research. For businesses, many sustainability consultants are available to provide this support, particularly regarding carbon reductions and offsets. In the philanthropic landscape, Impatience Earth provide pro-bono advice to philanthropic trusts who are interested in making donations to organisations to tackle the climate crisis. In April, we will publish a blog from Impatience Earth discussing their work, including what motivates philanthropists to find climate change work and what influences their decisions when directing this funding.
This recent 'blue carbon boom' provide great opportunities for the conservation of mangroves, seagrass, saltmarsh and other marine ecosystems, if directed appropriately and informed by the lessons learned from the protection and restoration of blue carbon habitats so far. Our upcoming blog series, with contributions from Ocean Bottle, Impatience Earth, the community of Vanga, and also researchers into the future of carbon financing, will address key topics and questions needed to help to direct this funding.
Our first blog, Voices from Vanga, will be posted on 28th February. If you would like to be signed up to our mailing list to receive this, drop us a line at [email protected].
---
[1] Sometimes, 'blue carbon' is used to refer to any carbon sequestered in the oceans – be it by mangroves, plankton, whales or even fish. Here, the term is used exclusively to mean mangroves, seagrass and saltmarsh ecosystems.